Fully Funded Digital Marketing Bootcamp. (Deadline: 13th Sep)
For women, 19+, living in NW England.
As part of the Government's #PlanForJobs, BuzzStart Academy is running a fully funded 10-week, Digital Marketing Skills Bootcamp.
DETAILS:

Led by industry women leaders
Certified by top VP Marketers worldwide
Guaranteed job interview/s
Flexible, accessible learning (full & part-time)
WOMEN (19+):
😍 looking for work?
😍 self-employed and need help to grow your biz?
😍 return to work mum?
😍 need a career change?
Successful Test-Pilot Outcomes
EMPLOYMENT

70% gained high-quality digital specialist jobs
MENTAL HEALTH
100% IMPROVEMENT IN SELF-CONFIDENCE AND BELIEF
Would you like to be a trailblazer and change the status quo for women everywhere?

Does a Career in Digital Marketing Strategy & Leadership excite you?
On average, women are better educated but paid less than men

Women experience more bias, racism and sexual harassment

Women are promoted less often (25% highlight this as a major barrier)

Women account for only 29% of senior roles

32% struggle with work/life balance

25% of women state confidence and visibility as a major barrier

Covid has amplified these barriers and created new barriers

We kept all of these challenges in mind when developing Talent, creating a flexible, accessible and inclusive workspace - crafting interactive lessons, workshops, and employer-centric projects.
Talent is led by industry women mentor-trailblazers helping you to overcome these barriers.
"Only 9% of women occupy leadership positions in tech and digital."
Jessie's Success Story
"You may not have got my voicemail a good few weeks back, but I'm really pleased to say I got a new job!
It was the one I spoke about interviewing for at graduation day and I'm loving it so far - working with Alzheimer's Society as a Marketing Officer in the Events Team (all around supporter acquisition for a variety of events).

I'm working across a range of digital media - PPC, display, email, SEO, social media and have lots of offline campaign work too. It's a full-time role and the salary is £28.5k, top of the pay band which I would never (and I really mean that!) have achieved without all your support. Just to put it into context, this all means I've been able to start saving to buy my first house which this time last year I could never have imagined.


I've also got 2 new mentees through friends and absolutely adore being able to support others in the same way I received empowerment and confidence from all the trainers and women on the course - thank you!


I can't remember if I ever mentioned, but I would also love to get involved in any way I can if you end up with another cohort of trainee digital leaders.
You're such a legend I can't thank you enough. If I can ever begin to repay your hard work and belief you know where to find me." [Jessica]
What is Talent?
Talent is a Digital Marketing Strategy and Leadership course programme, conceived from a combination of cutting-edge research in partnership with 1,000+ employers worldwide who struggle to find people with the required digital and soft skills and digital specialisms needed to fill open job roles.

It focuses on cutting-edge; digital skills, employability, soft skills, mindset, leadership and equality.

Developed from:
5,000+ hours of global digital specialist training for Google and Facebook
10,000+ digital apprentices trained UK-wide
Fortune 100 senior VPs of marketing trained in Digital Marketing Strategy and Leadership worldwide for Google e.g. HBO, Estee Lauder, UNICEF and many more
50,000+ SMEs digitally up-skilled in partnership with Google
4,250 undergraduates digitally up-skilled in partnership with Facebook

Digital Specialist Jobs Secured by Talent women
Average Salary - £25,000
Growth Marketing Strategist - Eleanor

Account Executive - Emily

Fashion business - Alison

Marketing Executive - Jess

Online Marketer - Charlotte

Marketing manager - Annagh


Digital Recruitment Consultant - Nadia
and many more
All employment was secured during Covid, high-unemployment and aforementioned barriers. Because the women showed up, put in the time and work and learned and applied their knowledge.
Course Schedule
Talent is a full-time, Monday to Friday course programme with part-time options. It has been designed for accessibility and flexibility to cater to learner flexibility and accessibility needs, specifically womens.
On the main, you are expected to be contactable from 9.30am - 3.30 pm from Monday to Friday. Attendance is part of your assessment. We provide extensive support and work for learners who need flexibility.
For example, you won't be in live classes for the full week. We record live classes so if you need to miss
1 or 2
, you can catch up on the virtual campus. You'll also be a member of a team, and your team will support you.
We know from experience that learners who commit, show up and do the work are now in top jobs with high pay band salaries.
We developed a virtual learning campus where the learning materials, recorded classes and a library of content are securely stored to help assist your classroom learning, projects and independent learning.
LEARNING SPACES:
Classroom learning - you will have live classes which will be recorded and uploaded to the virtual campus
Virtual campus - library of supplementary course learning content (you will receive login details)
Mentors - women from our previous first Talent delivery will help you and act as Role Models
Team meetings - you will be assigned to a team of women and work together on projects
Workshops - you will have dedicated workshops with mentors and your trainers to supplement and assist your learning
Live meetups - we're planning meetups throughout the course and events
Independent - you will be expected to do a significant no. of hours learning independently on the virtual campus
Research - independently and as a team member you will need to research course projects
Any questions: Check the FAQ below first. buzzstartacademy@gmail.com
The Talent Course Modules
Week 1: Google
Complete and submit Google's digital garage certification (*mandatory for your place on Talent)
Week 2: Induction
Learn about teams setup, virtual campus, projects, innovation and your careers & employability programme
Week 3: Project 1
Employer-centric project - digital strategy pitch deck for social enterprise 'Digital Skills for Women'.
Week 4: Customer-centricity
Learn cutting-edge frameworks, develop personas, and sharpen digital leadership and soft skills
Week 5: Project 2

Content Marketing frameworks, strategy and how to engage customers
Week 6: Digital Funnels
Learn how to find and attract your ideal customers using digital sales funnels: lead magnets, landing pages, SEO.



Week 7: Project 3

Social Media Strategy and frameworks, social campaigns, Search, digital advertising
Week 8: Project 4

Data Analytics and measuring campaign success. Google Analytics, certification and emerging tech.
Week 9: Projects Completion
Complete projects 3 & 4 and submit for assessment
Week 10: Facebook's Blueprint

Become a Facebook-certified professional - Facebook certified Digital Marketing associate
Weeks: 2 - 8 Employability and Careers
Expert training in employability, CVs, mock interviews, portfolio of work
Weeks: 2 - 8 Happiness

A dedicated workshop for mental health, mindset and developing your happiness baseline.

Deadline for application: 13.09.2021 @ 12pm
Classes begin: 20.09.2021 @ 9.30am
Assessments and Certification
You will be assessed throughout Talent both by trainers and your peers. To obtain references, certification and employer referrals, you will need to meet set minimum scores as outlined.
Digital Certificates - 100%

4 team Projects - 80%

Employability Portfolio - CV etc.

Ongoing Assessments

Attendance - 95%

team assessments - 80%

The BuzzStart team help learners with interviews, references and certification of the prestigious Talent certificate. If you do not complete and achieve the set assessments, you will not receive the accolades or results.
It's Free!
Valued at £5,500, the lucky ones get it free
Expert trainers
Trained by Google and Facebook go to Digital Skills Trainers
Flexible & Accessible
We accomodate all women. 24/7 access to training content
Women Role Models
Community of Role Models including mentors from previous training
Guaranteed Interview
Included employability & careers training for interviews with partner employers


Industry Digital Certifications
Google, Facebook and more. Great for your CV and employability
Digital Employment
High levels of success in employment progression
Women Leaders
Empowering women to support and build one another up
Equal Pay
Closing digital gender and pay gaps
Mental Health
Significant % of our programme is centered on mindset and health
Digital Employment
Talent provides the high-level soft and digital skills required by employers
There are many more.
The Women Talent is for
Talent is for Women (19+) who are unemployed, aspire to be self-employed or want to change career. Must be resident in the North West (Greater Manchester, Liverpool, Lancashire, Cumbria or Cheshire).
Looking for work?
Graduate?
Self-employed and need help to grow your digital business?
Career changer?
Back to work mum?
**
If you're already employed, and not looking to change career, your employer will need to provide 30% match-funding, and this will need to be contractually agreed in writing.
Questions: Please check the FAQ below first before emailing.
email: buzzstartacademy@gmail.com
Who should not apply?
Our intention is never to put anyone off. However, from previous minority experiences, we have a strict policy to ensure that those who want to progress, grow and succeed will obtain a deserved place on this free world-beating course.
Talent is not for the following:
Abusive individuals (our policy is strictly no abuse towards co-learners or our team)
Know it alls - please, we don't even know everything about digital
Keeping work coach off your back to ensure payment (we hear about it)
Applying for jobs and if successful, will drop out (mandatory to complete the 10-weeks)
Lazy, argumentative and disruptive individuals
Aggressive or bullies
Non-committed to full programme (10 weeks)
History of poor attendance
Any questions: Please check the FAQ below first before emailing.
email: buzzstartacademy@gmail.com
Learner Testimonials
Before I joined the BuzzStart Talent's training programme, I was looking for a career change directly into digital marketing. Even though I had completed a marketing internship prior to beginning to course, I was lacking the necessary skills and attributes to succeed in my job search.

Immediately when beginning the course, I completed the Google Digital Garage: Foundations of Digital Marketing certification - an important attribute I could add to my current CV. What really sets BuzzStart apart form competitors is the inherent focus on creating customer centric digital leaders. I found myself instantly applying these soft skills and leadership qualities in the remote team projects which involved advanced digital strategy, SWOT analysis and detailed customer journey mapping.

Learning about important digital transformation in the marketing industry opened my eyes to how brands are constantly evolving and developing their digital strategies. Coupled with the understanding of critical frameworks such as micro moments and See Think Do Care, I had important, relevant, industry specific knowledge to add to my cover letter.

I was lucky enough to take part in Facebook's design thinking workshop, where I ideated, designed and A/B tested a mobile app using industry technologies and processes. I could refer to this training in interviews, providing an accurate insight into my critical thinking methods, while setting me apart from other candidates.

The employability sessions gave me a new focus on who I wanted to be and what I wanted to achieve. The creation of a personal work persona and the power of reframing assisted me in reaching the next steps and advancing in my career. I am extremely thankful to the BuzzStart trainers, especially Patrick, for their ongoing support throughout the process. I honestly don't think I would have secured a position within a marketing agency without all their specialist knowledge and expertise

__ Eleanor Ghebache - Marketing and Media Officer at Get it Loud in Libraries.

While studying at BuzzStart Academy, I have learnt a great deal of information and useful skills which is amazing as it relates directly to the world of work and how we can improve society, contribute to the equality of men and women, using state of the art digital marketing and contribute to innovation and our local and wider economy; in a wide arena of activities. I have met some amazing ladies; all the participants on the course had wonderfully creative talents. I cannot enough thank Patrick and the rest of the team, Amy, Krishma and Suzie for the beautiful experience we had on a course which was truly World Class. Just one last mention, I really loved the last part of the course regarding emerging technologies. Overall, Brilliant and magical.
— Tahereh Ansari Azari - Digital and Customer Support Specialist
Frequently Asked Questions
Is Talent for Women only?

(Yes)

Do I need to be 19+

(Yes we'll need D.O.B evidence e.g. photographic ID)
Will I need to share personal data? (Yes. As this is a fully-funded targeted government programme with public money, it's essential that the right people are gaining places and this can only be tracked through personal data. Have a read of the Privacy Policy in the footer if you're concerned)

Can I apply if I've already attended a funded Skills Bootcamp course?

(No)
Can I apply if I'm on Kickstarter funded programmes (No)

Do I need to sign an agreement that I'll commit to 10 weeks?

(Yes)
Will I need to attend any live classes or centres? (No. The course is delivered entirely online but we will host some real-world meetups and you're invited)
I'm on holiday or have some other event, which clashes with the launch but I really want to apply. (email patrick: buzzstartacademy@gmail.com)
Will I need a strong internet connection and my own device e.g. laptop (Yes - please only apply if you have access to strong internet and a computer, which is suitable - we may be able to get you some device funding via DwP. Speak to your work coach)

Do I need to pay anything for the course?

(No)

Do I need to be resident in: Greater Manchester, Liverpool, Lancashire, Cumbria, or Cheshire ?

(Yes evidence of home address will be required with your full name)

Will I need evidence of my residence, age and other pertinent criteria?

(Yes)

Will I need my National Insurance number?

(Yes - this is how the government track if you're suitable and your ongoing employment progression)

When will we need to be online?

(Mon - Fri 9.30am - 3.30pm is your scheduled learning hours which are a combination of classes, virtual campus, workshops and independent learning. However we accommodate part-time learners - email us.)

Do I need to be unemployed

(Yes and No. Talent is for unemployed, or those with aspirations to become self-employed or change career. If you are already employed and have no plans to leave your employer but want to apply, your employer must provide 30% match-funding *email: buzzstartacademy@gmail.com)

Will I get a job at the end?

Interviews are guaranteed for open digital job roles with partner employers. Jobs are not guaranteed. However, we provide an additional 10 weeks of employability support and 6 months wrap around and have high % of employment success.

Do I need some digital skills? (

Yes. You will need 2 years of basic digital skills - computer literacy, knowledge of digital tools, navigating internet / search engines, and social media platforms, apps, and using a smart phone.)
Do I need a degree or any high level qualifications? (No)
What level is Talent? (Although unaccredited, Talent is Level 3 - 4)
What's the deadline for applying for Talent? 13-09-2021
When do Talent classes begin? 20-09-2021
How long is the Talent course? 10 weeks full-time (the first and last weeks are independent learning for digital course certifications)
Will I need to have been in full-time employment or education within the past 12 months? Yes and no. There are some grey areas e.g. return to work mums (email Patrick: buzztartacademy@gmail.com)
Only apply if you meet all of the criteria

and are

committed

to

10-weeks
We understand entirely that you might have questions and concerns. For example, you might be a mum who needs to do school runs. You might work part-time or night shifts. You might care for someone. We've created the programme to be flexible and adaptable to meet your needs. We're here to support you through the entire programme.


This is a once in a lifetime opportunity and there is no course quite the same in the world.

When does Talent start?
Talent is scheduled to begin on Monday 20th September.

The programme is fully funded by the UK government (DfE) Fast Track Digital Workforce Fund and there is no cost to participants. The government track the success of each participant and their onward employment journey by collecting personal data up front. Please read the Privacy Policy in the footer to find out more about data use. BuzzStart Academy in no way will use your data other than for the use of course programme related promotional support, or will we share it with any third parties other than the Department For Education.

If you're coming to the course from the department of work and pensions (dwp) there are additional grants you can access for tech equipment. Ask your work coach for information. Tell them you're applying for the government's Skills Bootcamps initiative.
How do I apply?
If this sounds like the perfect opportunity for you, then please click Apply Now below.

There are a few sections to the application process. We give great attention to detail and would ask therefore that you read all of the criteria and follow the guidelines and steps as provided .

You can begin your application now by clicking on the red button below.
What's the deadline for making an application?
The deadline for making an application is Tuesday 13th September @ 12pm
Where will I learn?
All training and work experience is remote. You will work from home or a quiet space with a strong internet connection. We highly recommend where possible and especially during live class time, you find a quiet space with no distractions and ensure your internet connection is strong.
Final check:
Do I meet all of the criteria? (Yes / no?)
Am I fully committed to 10 weeks learning and a great future career? (Yes / no?)
You should only apply if you are 100% committed. It is completely unfair to take someone else's opportunity if you know you're not commited or unlikely to complete
If your answer is Yes, go ahead and click Apply Now.
BUZZSTART ROLE MODELS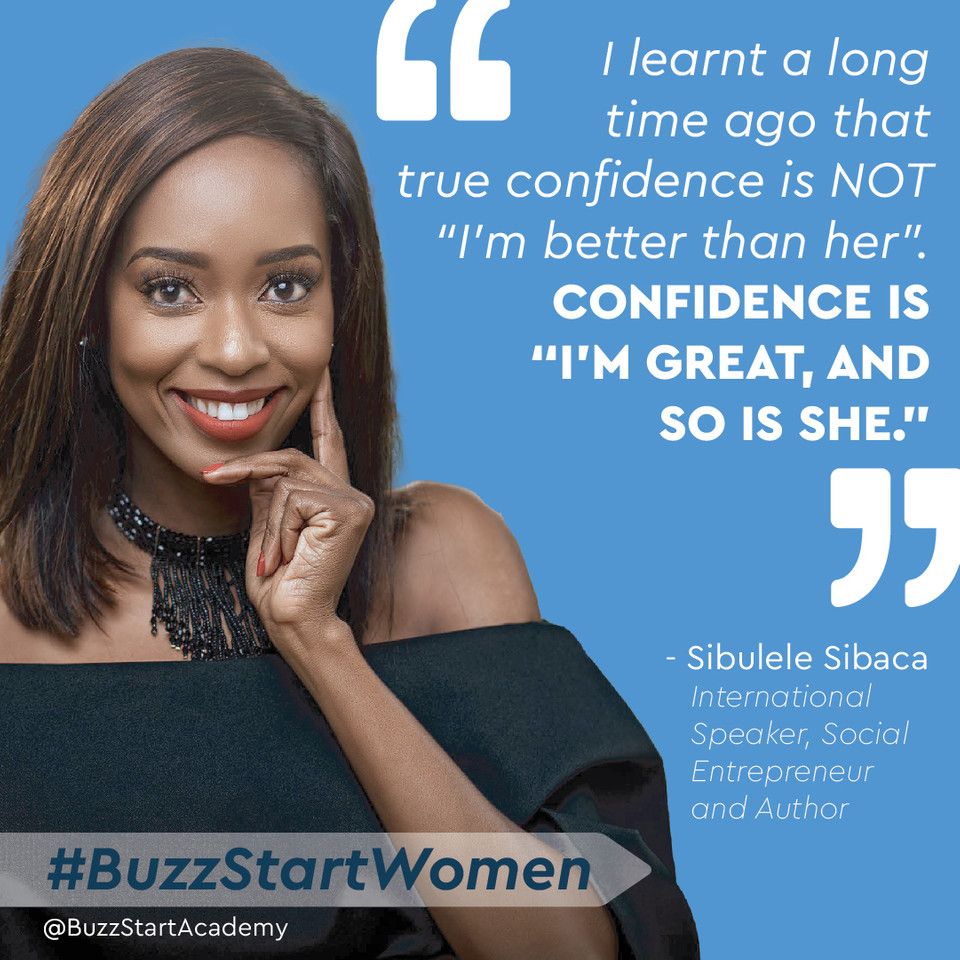 Sibulele Sibaca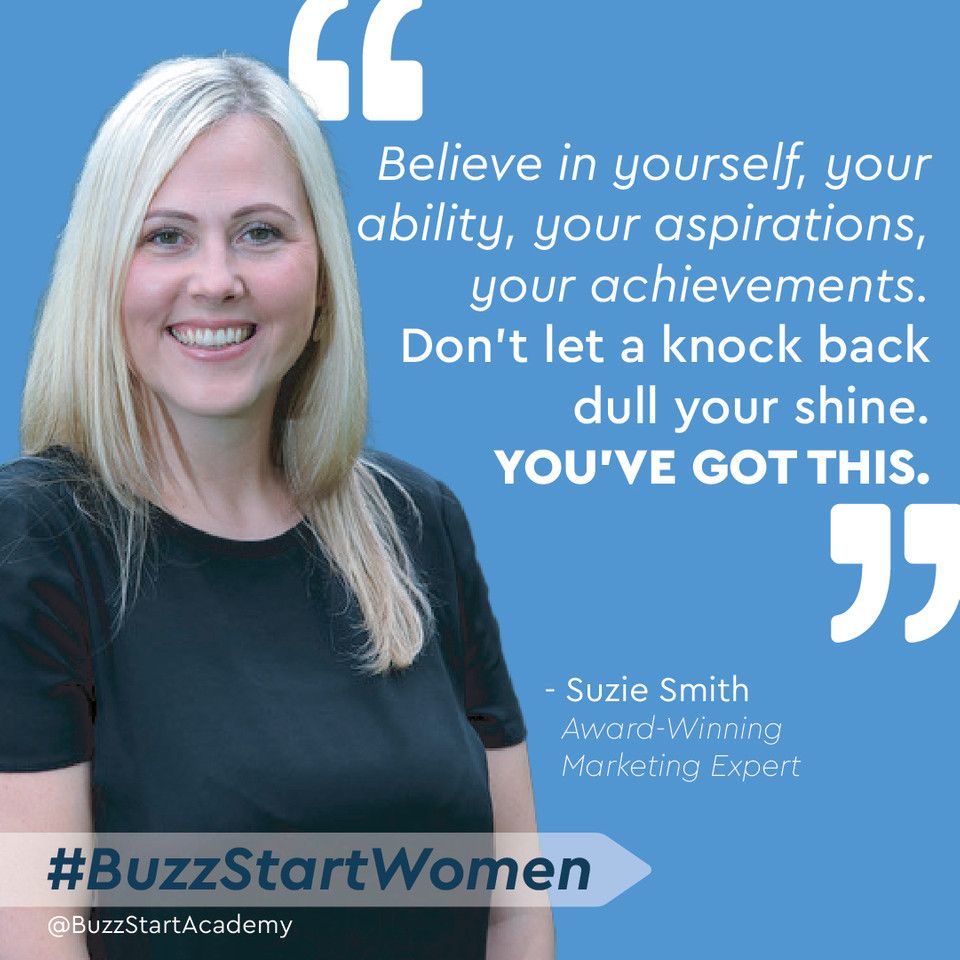 Suzie Smith (Your Trainer)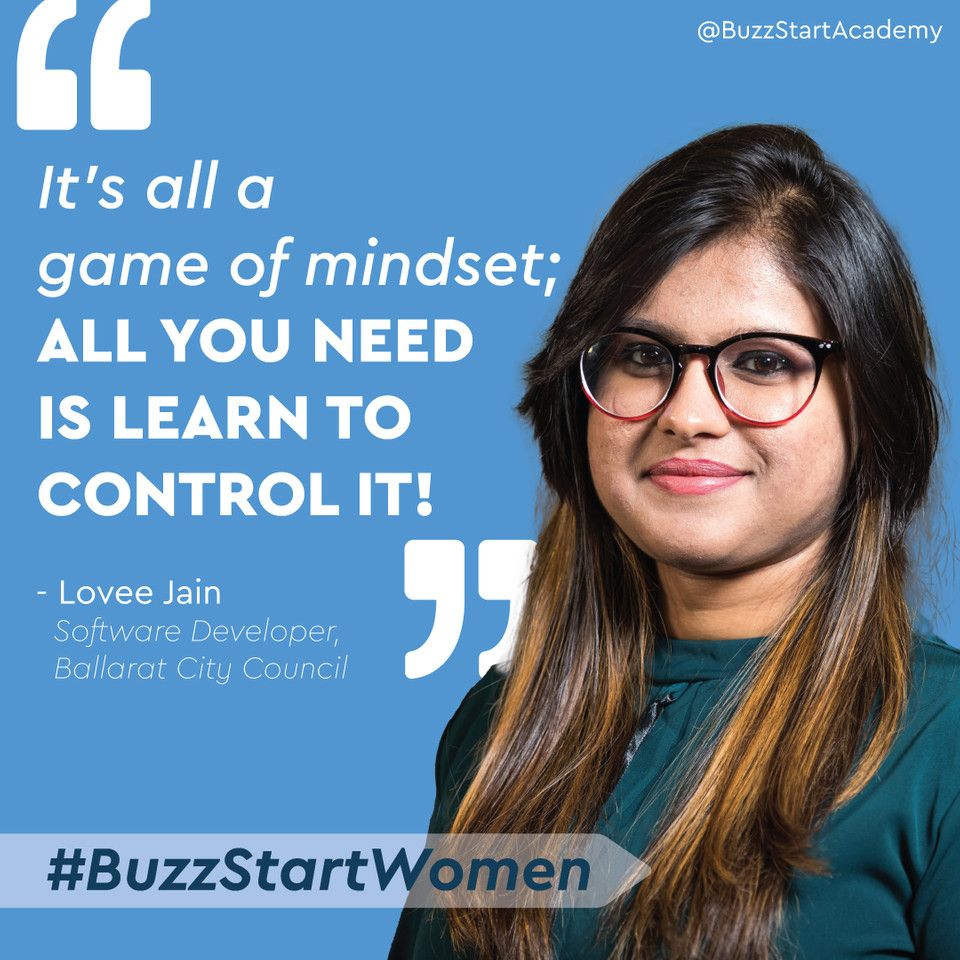 Lovee Jain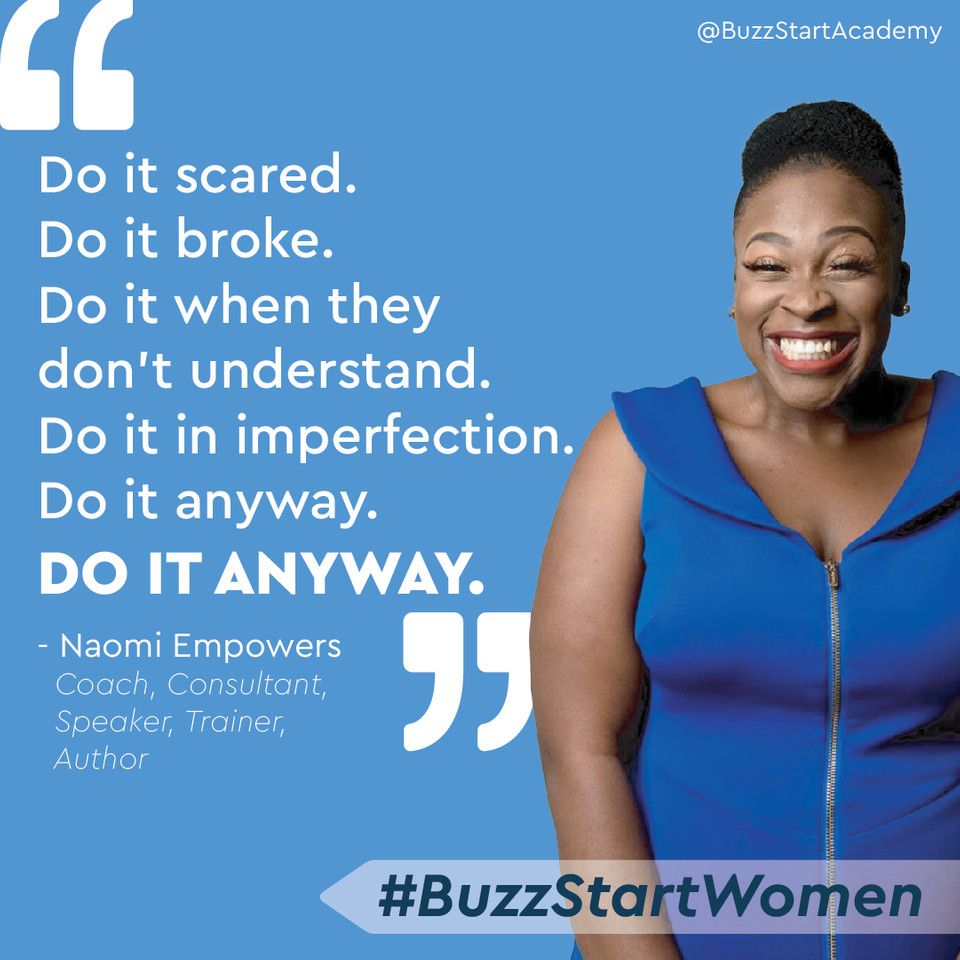 Naomi Empowers
Our Role Model community is growing around the world. Join us to empower more women.
Project Case-Study: Digital Skills for Women CIC
(non-profit Social Enterprise)
You will learn how to ideate, market & grow this enterprise in Talent
Meet BuzzStart Academies Founder
Patrick Cutliffe
My name is Patrick Cutliffe and I am the founder of BuzzStart. I have three sisters and four nieces who I adore.The inequalities within our society, most specifically the archaic education system and dysfunctional corporate workplace have always bugged me. So I set about on a mission to upskill 1 million women digital leaders for the future of work. I work alongside some amazing women who are trailblazing the Talent programme and you will get to meet them on Talent.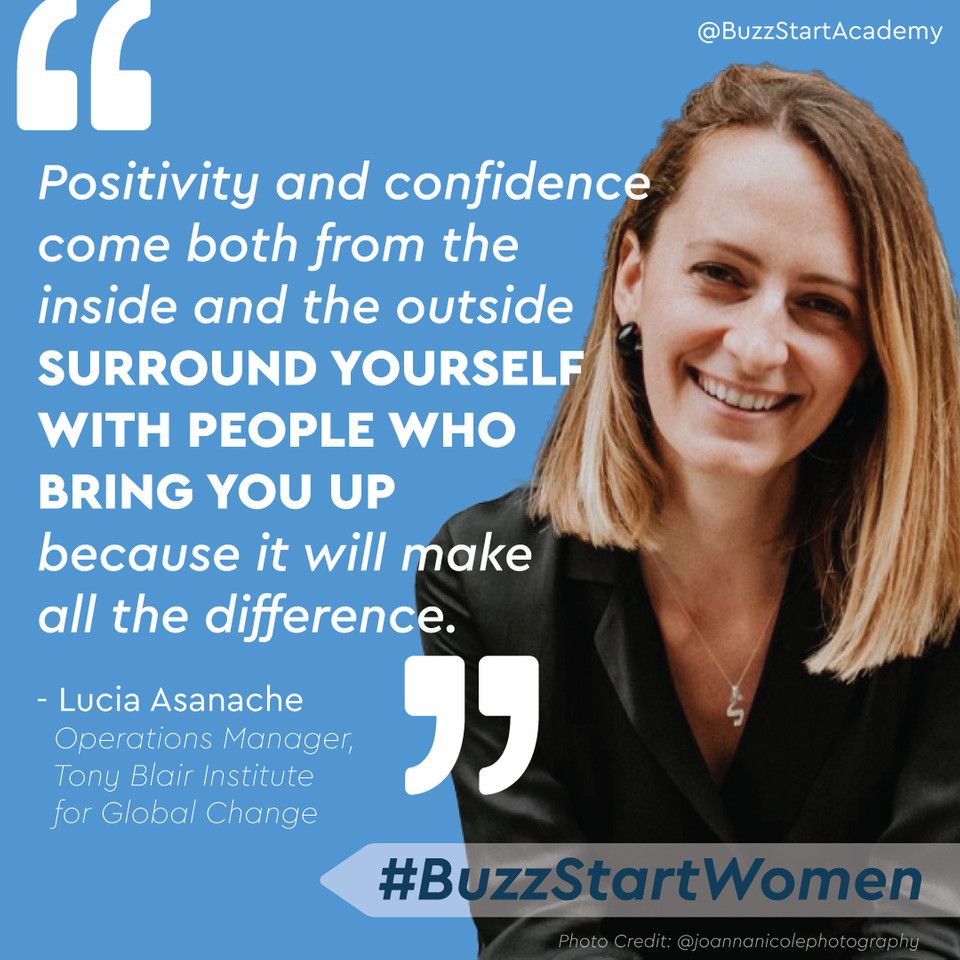 Are you ready to create a new life, a business, a career that lights you up? The choice is yours. Click "Apply Now."

Deadline: Tuesday 13th September, 12pm.
Created with